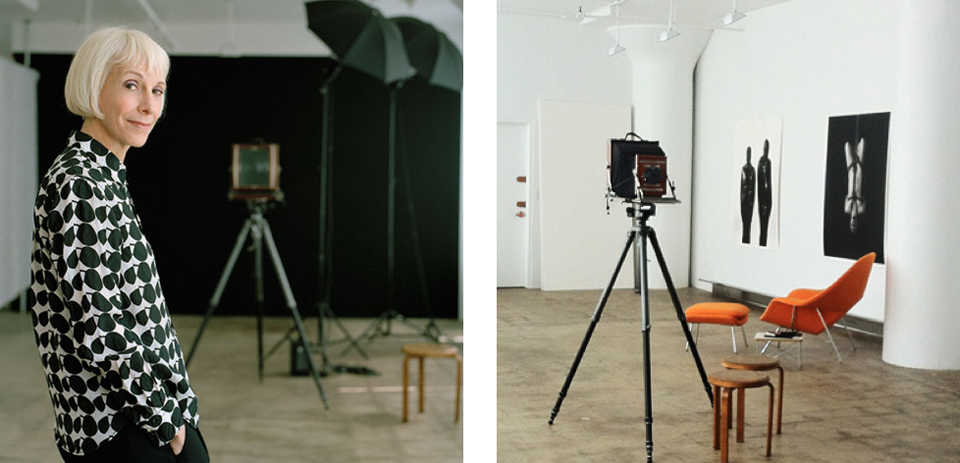 "Elizabeth Heyert's photographs are about the inner lives of others. She creates modern, unconventional portraits--of sleeping figures, of the dead, of people in empty rooms staring into a mirror, or transported through hypnosis or bondage. They show us the unknowable side of human nature and encourage us not to look away."
Photography has been Heyert's passion since she was 16. It led her to the Royal College of Art in London, where she studied with Bill Brandt, and back to New York where she wrote her first photography book, and established an international reputation as an architectural photographer. After shooting around the world for publications such as The New York Times, Vogue, and Architectural Digest, and for clients including Ralph Lauren, Cartier, American Express, and Tiffany & Co., Heyert's successful 20 year career allowed her to close her commercial studio to return to a more personal exploration of photography. She began to experiment with a unique form of portraiture that emphasized inner emotion rather than pose or appearance. She first captured the attention of the art world with a decade-long body of work, her photographic trilogy THE SLEEPERS, THE TRAVELERS, and THE NARCISSISTS.
With THE TRAVELERS, her radical series of large-scale, post-mortem portraits, Heyert achieved worldwide recognition. Heyert presents the dead as she would the living, beautifully dressed against a black background with the traditional lighting of a formal portrait. First exhibited in a one-person show at the Edwynn Houk gallery in New York, the humanity in the photographs touched a universal chord. In the years following their debut they continue to be extensively exhibited, collected, and reviewed, and to provoke fascination and controversy. The New York Times described them as a "peek below the surface at the vibrant, living face beneath the mask of death." Heyert's book, THE TRAVELERS, named by PHOTO EYE and others as one of the best photography books of the year, remains a collectors item.
Heyert continues to push the parameters of portraiture in recent projects including THE BOUND, which explores the body as a site for experimentation, meditation, and transformation, and THE OUTSIDER, a conceptual portrait project shot in China. In her latest series, THE IDOL, she examines religion and popular culture, and the ways
Photo Credit: Nina Subin